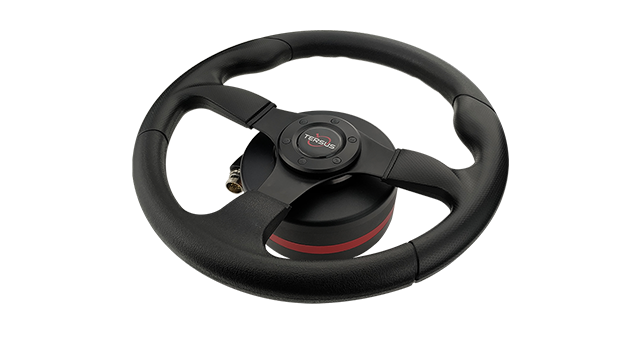 The Tersus AG990 Auto-Steering System is an automatic steering system which uses high-torque motor control steering wheel. It integrates the advantages of convenient installation, large torque, high precision, low noise, low heat and quick debugging. It is suitable for various applications of tractors, harvesting machines, plant protection machinery, rice transplanters and other agricultural models.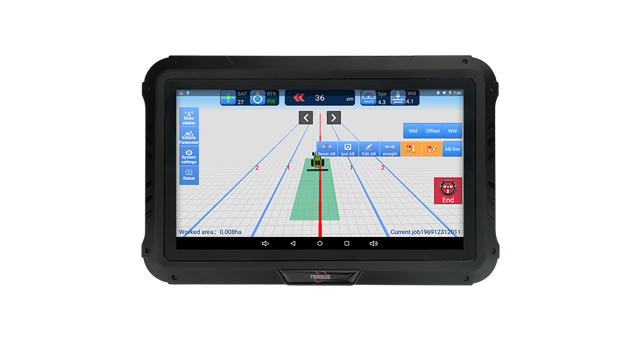 The system includes a control tablet integrated with a high-precision GNSS board, a steering wheel motor with a built-in controller, and an angle sensor. It controls the vehicle and co-operates with a base station to form a whole machine control system for agriculture applications. It can be widely used for sowing, cultivating, trenching, ridging, spraying pesticide, transplanting, land consolidation, harvesting and other work scenarios.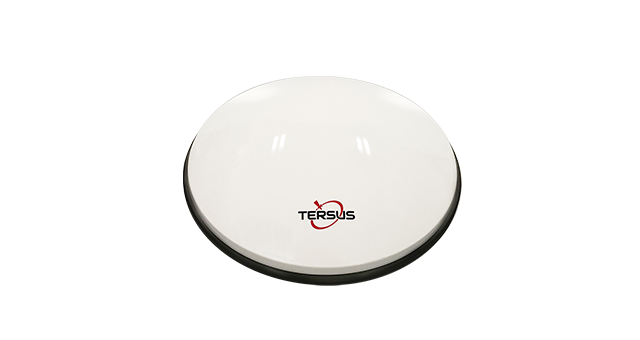 The AX3702 is a mini survey antenna. It can receive GPS L1/L2, GLONASS L1/L2, and BeiDou B1/B2/B3 signals, which can be used in land survey, marine survey, channel survey, seismic monitoring, bridge survey, container operation, agriculture applications, etc. The AX3702 was calibrated in NGS. Customers can use the antenna for GPS-only or three-constellation navigation applications.
Features
Specifications
Documents
Videos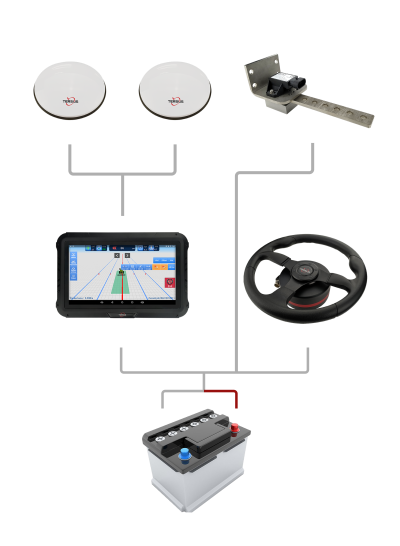 Supports multiple constellations & frequencies: - GPS L1, L2 - GLONASS L1, L2 - BeiDou B1, B2 - Galileo E1, E5b - QZSS L1, L2 - SBAS L1
Small high-torque motor
Highly integrated system
Non-contact angle sensor
10.1'' touch screen control tablet
Without modification of the hydraulic system
Dual antennas receive signals
Operating System
Android 6.0
Memory
2GB RAM + 16GB ROM
External Flash
T-Flash , up to 64GB
LCD
10.1'' Capacitive Touch Screen
Resolution
1024x600 pixels
Wi-Fi
2.4GHz IEEE 802.11 b/g/n
Cellular
FDD-LTE 800 / 1800 / 2100 / 2600MHz
TD-LTE 1900 / 2300 / 2500 / 2600MHz
WCDMA 850 / 900 / 1900 / 2100MHz
GSM 850 / 900 / 1800 / 1900MHz
USB
USB 2.0 (host & debug) x1
Audio
3.5mm Audio Jack for Audio
Serial Port
RS232 x2, RS485 x1
CAN Port
CAN x2 (J1939, CANOpen, ISO15765)
Ethernet
RJ45 (100M Ethernet) x1
Signal Tracking
GPS L1, L2; GLONASS L1, L2; BeiDou B1, B2;
Galileo L1, L2; QZSS L1, L2; SBAS L1
Single Point Positioning Accuracy (RMS)
– Horizontal: 1.5m
– Vertical: 3.0m
Real Time Kinematic, RTK (RMS)
– Horizontal: 10mm+1ppm
– Vertical: 15mm+1ppm
Heading Accuracy
– 1m Baseline (RMS): 0.15°
Timing Accuracy (RMS)
20ns
Velocity Accuracy (RMS)
0.03m/s
Correction
RTCM 2.3/3.0/3.2
Heading and RTK update rate
20Hz
Network Protocol
NTRIP, TCP/IP
Power failure detection
supported
Dustproof & Waterproof
IP-65
Dimension
281mmx181mmx42mm
Operating Temperature
-20 ℃ ~ +70 ℃
Storage Temperature
-40 ℃ ~ +85 ℃
Motor Performance (Motor Wheel)
+
Rated torque
6.5 N·m (typical), 13 N·m (max)
Guaranteed continuous operation speed
100 rpm
Maximum freewheel error
0 (without reducer)
Communication (Motor Wheel)
+
Communication protocol
ModBUS
Communication interface
RS232
Encoder resolution
1000 lines, 4000 pulses / circle
Encoder interface (protocol)
parallel, no protocol
Encoder maximum output rate
200KHz
Dimension
φ 178x81mm (motor)
φ 410x32mm (steering wheel)
Weight
5.4kg (motor only)
6.35kg (motor and wheel)
Environmental (Motor Wheel)
+
Operating Temperature
-40℃ ~ +105℃ (motor)
Storage Temperature
-45℃ ~ +150℃ (motor)