Notice on GPS Week Number Rollover - 6 April 2019
The GNSS receivers manufactured by Tersus GNSS Inc. can be used normally when the GPS week number rollover occurs. They are not affected by this event and do not need to be upgraded.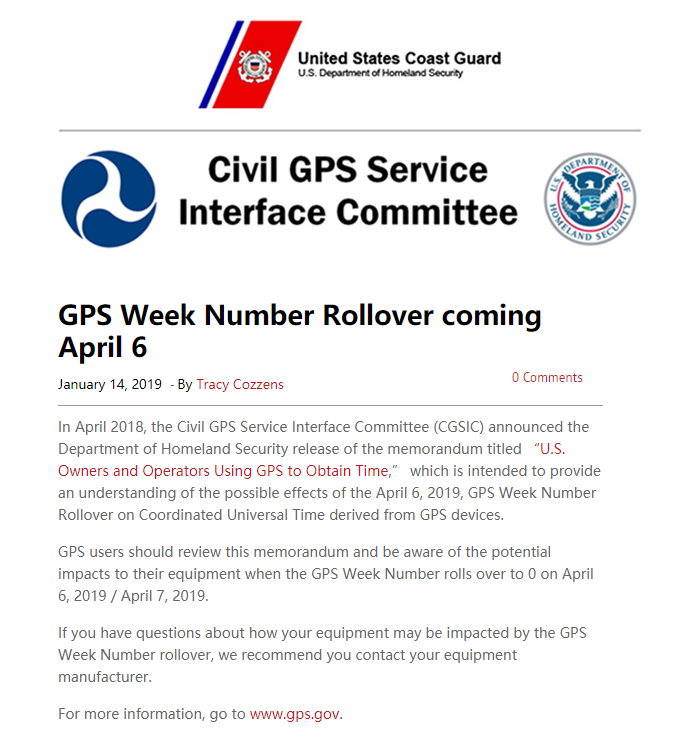 What is Happening
On 6 April 2019 there will be a Global Positioning System (GPS) week number (WN) rollover on Coordinated Universal Time derived from GPS receivers and devices.
The GPS system stores the current week number as a 10-bit number. Therefore, every 1024 weeks, the week number rolls over to zero. The start date for the week number count was 6th January 1980. The next rollover event is due on 6th April 2019.
About Tersus GNSS Inc.
Affordable Centimeter Precision

Tersus is a leading GNSS RTK technology provider. Our engineers have been pioneers in the design of GNSS products to better cater to the need of high-precision positioning. Our offerings cover GNSS Real-time Kinematic (RTK) & Post-processed Kinematic (PPK) OEM boards and receivers, as well as integrated solutions such as Oscar GNSS Receiver, MatrixRTK, and GNSS-aided inertial navigation systems.
Designed for easy and rapid integration, Tersus GNSS solutions offer centimeter-level accurate positioning capability and flexible interfaces for a variety of applications: unmanned aerial vehicle (UAVs), surveying, mapping, construction engineering, deformation monitoring and precision agriculture, etc.