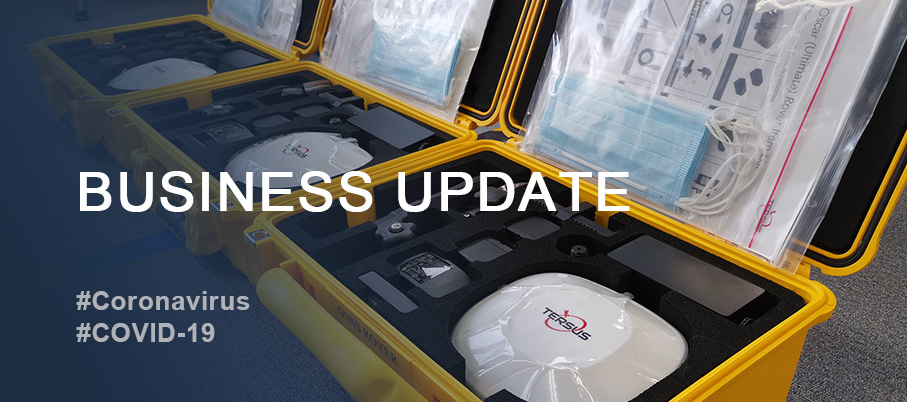 COVID-19 (Coronavirus) Business Update
Dear clients, partners and friends,


As COVID-19 (coronavirus) continues to impact people around the world, the health and safety of all remain our top priority. Tersus is committed to maintaining our operations and supporting our customers to ensure safe, secure, and uninterrupted services throughout this global crisis.


Tersus global presence allows us to be close to the evolution of the situation, to take the most appropriate measures locally in order to protect our colleagues, customers, partners and their families, while securing customer service.


We're here when you need us. Our professionals use mobile technology daily and can work remotely at short notice. We have had several client requests for remote work options for our professionals, and we have been able to accommodate these requests quickly.


Thus, as soon as the virus appeared, we implemented a set of appropriate measures that were gradually deployed throughout the world:


What we've done so far:
√ Intensified cleanings

√ Health checks at the office
√ Deployment of home office
√ Limited travels to restricted areas, as well as all non-essential business travel
√ Strengthen online technical support services
√ Canceled gatherings
√ Encourage the use of teleconferences

Our teams are continuing their efforts to meet your customer requests in the coming days and weeks. Let's stay connected to discuss your concerns, find the answers to your questions together. Let us know if you have any additional requirements.


It is the responsibility of all of us to stop this pandemic. Take care of yourself and your family.
Yours sincerely,
The Tersus Team

COVID-19 (Coronavirus) Business Update.pdf
About Tersus GNSS Inc.
Tersus is a leading GNSS RTK solution provider. Our engineers have been pioneers in the design of GNSS products to support high-precision positioning applications.

Our products include GNSS RTK & PPK OEM boards and receivers, as well as integrated solutions such as the David GNSS Receiver, Oscar GNSS Receiver, MatrixRTK, and GNSS-aided Inertial Navigation System.
Designed for easy and rapid integration, our GNSS solutions offer centimeter-level positioning accuracy and flexible interfaces for a variety of applications including: unmanned aerial vehicle (UAVs), surveying, mapping, construction engineering, and precision agriculture.
Sales inquiry : sales@tersus-gnss.com
Technical support : support@tersus-gnss.com