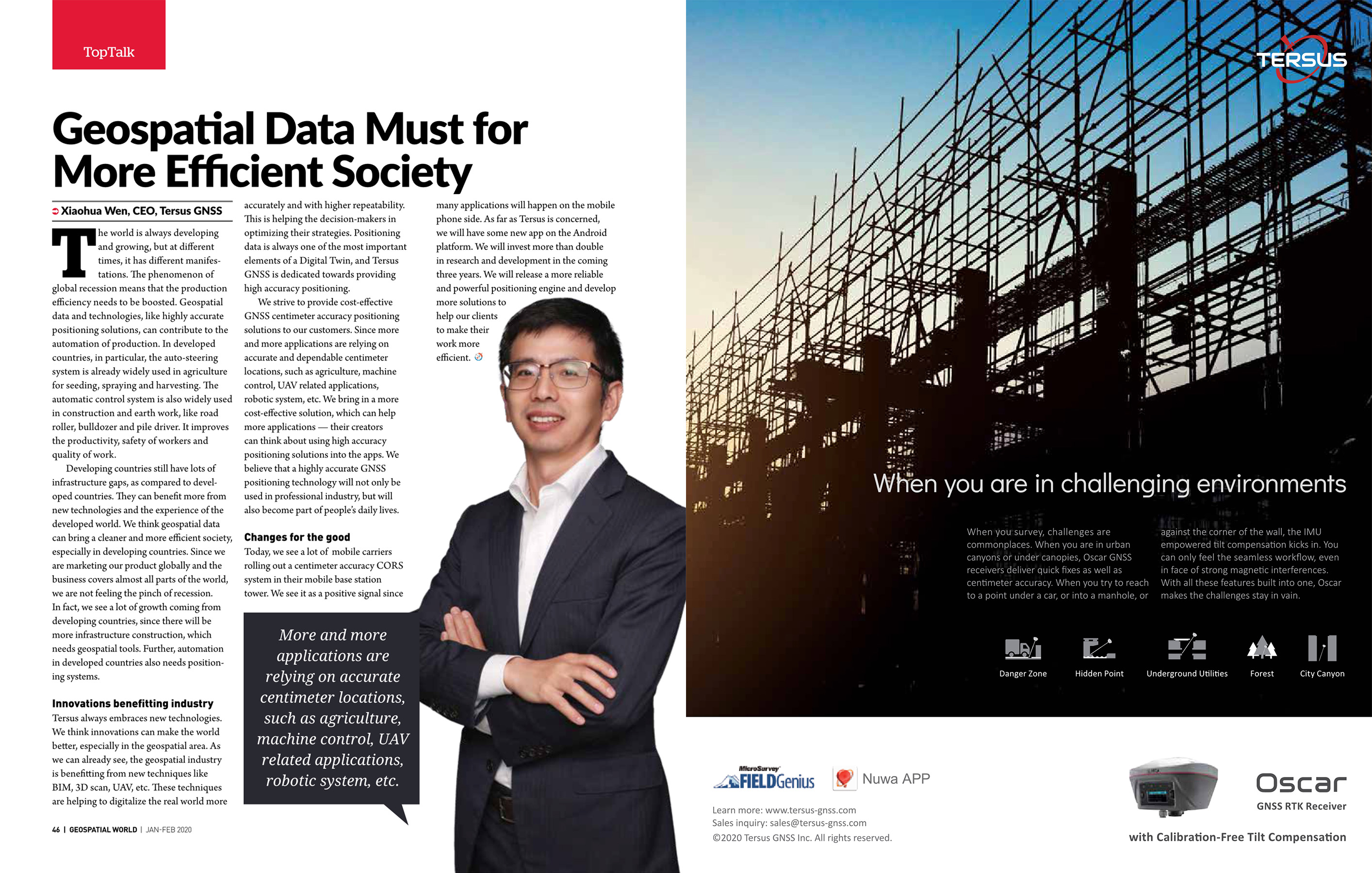 Geospatial Data Must for More Efficient Society
The world is always developing and growing, but at different times, it has different manifestations. The phenomenon of global recession means that the production efficiency needs to be boosted. Geospatial data and technologies, like highly accurate positioning solutions, can contribute to the automation of production. Especially in developed countries, the auto-steering system is already widely used in agriculture for seeding, spraying and harvesting. The automatic control system is also widely used in construction and Earth work, like road roller, bulldozer and pile driver. It improves the productivity, safety of workers and quality of work.
Developing countries still have lots of infrastructure gaps, as compared to developed countries. They can benefit more from new technologies and the experience of the developed world. We think geospatial data can bring a cleaner and more efficient society, especially in developing countries. Since we are marketing our product globally and the business covers almost all parts of the world, we are not feeling the pinch of recession. In fact, we see a lot of growth coming from developing countries, since there will be more infrastructure construction, which needs geospatial tools. Further, automation in developed countries also needs positioning systems.
Innovations benefitting geospatial industry
Tersus always embraces new technologies. We think innovations can make the world better, especially in the geospatial area. As we can already see, the geospatial industry is benefitting from new techniques like BIM, 3D scan, UAV, etc. These techniques are helping to digitalize the real world more accurately and with higher repeatability. This is helping the decision-makers in optimizing their strategies. Positioning data is always one of the most important elements of a Digital Twin, and Tersus GNSS is dedicated towards providing high accuracy positioning.
We strive to provide cost-effective GNSS centimeter accuracy positioning solutions to our customers. We believe that more and more applications are relying on accurate and dependale centimeter locations, such as agriculture, machine control, UAV related applications, robotic system, etc. We bring in a more cost-effective solution, which can help more applications — their creators can think about using high accuracy positioning solutions into the apps. We believe that highly accurate GNSS positioning technology will not only be used in professional industry, but will also become part of people's daily lives.
Changes for the good

Today, we see a lot of mobile carriers rolling out a centimeter accuracy CORS system in their mobile base station tower. We see it as a positive signal, as many applications will happen on the mobile phone side. As far as Tersus is concerned, we will have some new app on the Andriod platform. We will invest more than double in Research and Development in the coming three years. We will release a more reliable and powerful positioning engine and develop more solutions to help our clients to make their work more efficient.
About Tersus GNSS Inc.
Tersus is a leading GNSS RTK solution provider. Our engineers have been pioneers in the design of GNSS products to support high-precision positioning applications.

Our products include GNSS RTK & PPK OEM boards and receivers, as well as integrated solutions such as the David GNSS Receiver, Oscar GNSS Receiver, MatrixRTK, and GNSS-aided Inertial Navigation System.
Designed for easy and rapid integration, our GNSS solutions offer centimeter-level positioning accuracy and flexible interfaces for a variety of applications including: unmanned aerial vehicle (UAVs), surveying, mapping, construction engineering, and precision agriculture.
Sales inquiry : sales@tersus-gnss.com
Technical support : support@tersus-gnss.com