Tersus Takes New Stride into Surveying with David GNSS Receiver
Shanghai, March 15, 2018 - Tersus GNSS Inc. ("Tersus"), a leading provider of centimeter-accuracy GNSS RTK solutions, is bringing surveying applications to next level with the launch of Tersus David, a GNSS Receiver in the global markets. For surveyors, the David receiver as well as the components creates an affordable solution delivering higher-precision signal reception, integrated in a smaller and lighter package.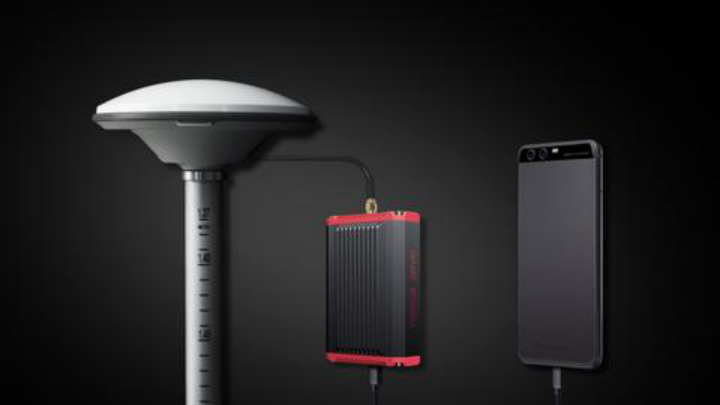 David GNSS receiver supports GPS L1/L2, GLONASS L1/L2 and BeiDou B1/B2. With this GNSS receiver, users can take full advantages of common platforms such as smart phones, tablets or traditional handheld modules to collect data. Coupled with an external antenna, Survey App and post-processing software, the David GNSS Receiver is a low-cost solution for all survey applications, including real-time RTK positioning and data collection for PPK. 4GB on-board EMMC card makes it easy to save data for post processing. The compact size, IP67-rated enclosure and versatile accessories alleviate most of the inconveniences encountered in field work.
Xiaohua Wen, founder & CEO of Tersus, commented, "Market insights inform our innovation strategies. Will surveyors who equip with latest-generation tools gain competitive advantages? The launch of David GNSS Receiver marks a major step forward for Tersus as well as for surveying professionals. The David is a cost-efficient and palm-sized GNSS receiver. Tersus is constantly working to make each surveying task easier and more productive by providing high-quality GNSS RTK surveying equipment. Our focus is on enabling surveying professionals make data collection more convenient, post (data collection) processing more accurate, and better equipping them to do surveying in the field."



David GNSS Receiver & Base/Rover Kits
David GNSS Receiver Rover Kit Mobile Mode

David GNSS Receiver Rover Kit with 1W Radio Station

David GNSS Receiver Rover Kit with 2W Radio Station

David GNSS Receiver Base Kit Mobile Mode

David GNSS Receiver Base Kit with 1W Radio Station

David GNSS Receiver Base Kit with 2W Radio Station

David GNSS Receiver Base Kit with 35W Radio Station
About Tersus GNSS Inc.
Affordable Centimeter Precision for Everyone

Tersus is a leading GNSS RTK technology provider. Our engineers have been pioneers in the design of GNSS products to better cater to the need of high-precision positioning. Our offerings cover GNSS Real-time Kinematic (RTK) & Post-processed Kinematic (PPK) OEM boards and receivers, as well as integrated solutions such as NeoRTK, MatrixRTK, GNSS-aided inertial navigation systems, and autosteer for tractors. Designed for easy and rapid integration, Tersus GNSS solutions offer centimeter-level accurate positioning capability and flexible interfaces for a variety of applications: unmanned aerial vehicle (UAVs), surveying, mapping, construction engineering, deformation monitoring and precision agriculture, etc.